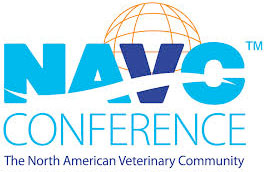 A Successful Meeting!
NAVC 2016 was a success! Thanks to all of the speakers who presented at the AARV lecture track, held January 18, 2016 at NAVC in Orlando, Florida. Special thanks to Dr. Kristin Kirkby Shaw for her leadership as president of the AARV during 2015 and to Dr. Rosemary LoGiudice for all of her contributions to the field of animal rehabilitation.



A special thank you to MarsPetcare and Dr. Melody Raasch for sponsoring the John Sherman Award.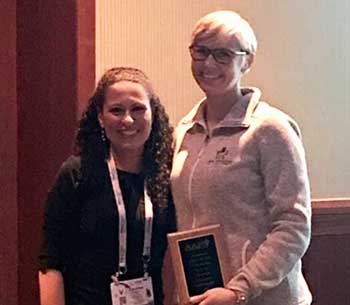 Dr. Carolina Medina, 2016 AARV president (left), thanks Dr. Kristin Kirkby Shaw for her leadership as our 2015 AARV president!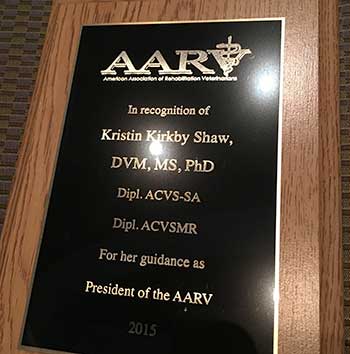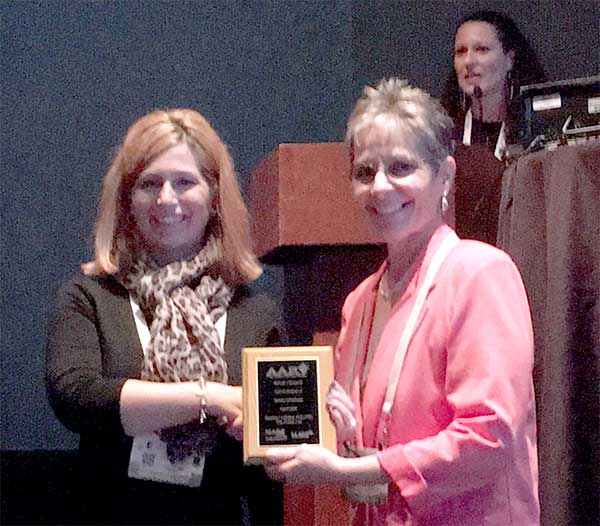 Dr. Rosemary LoGiudice is presented with the John J. Sherman III Award for Excellence in the Field of Veterinary Rehabilitation. This award is named in honor of Dr. John Sherman, a pioneer in veterinary rehabilitation medicine, who passed away in 2010.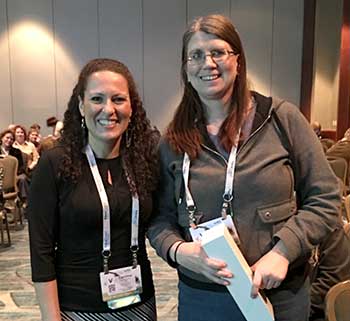 Dr. Carolina Medina (left) congratulates Dr. Angela Bross of Joy-Chi Veterinary Acupuncture, winner of the Apple watch at this year's AARV meeting!
SPOTLIGHT PRACTICE: JANUARY 2016
Animal Rehab Center
The Animal Rehab Center is a full-service, veterinary-guided, physical rehabilitation clinic that offers in-house rehab for the dogs and cats of Western North Carolina. Located at 178 South Charlotte Street, the Animal Rehab Center shares its building with the Canine Social Club of Asheville and is open Monday through Friday, from 7 am to 6 pm.
The Physical Rehabilitation Program at Charlotte Street Animal Hospital began in 2010 with modalities including a land treadmill, therapeutic laser, and land exercise equipment. From there, we continued to grow and add beneficial aids. With the addition of Asheville's first Underwater Treadmill, we soon recognized the need for an expansion and recently moved into a new rehabilitation facility in October of 2015. Our new facility enables us to serve more pets and offer more innovative ways to assist in their physical wellness.
Read more about the Animal Rehab Center on our Spotlight Practice page.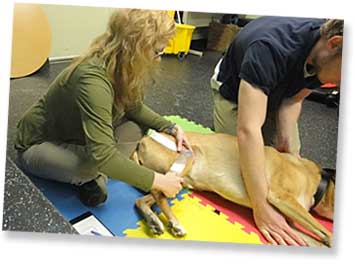 AARV Members: Download Our Updated Free Brochure for Your Clients and Colleagues
AARV's updated brochure "Why Should You Choose a Rehabilitation Veterinarian?" is now available as a free download for members.
The brochure is a high-resolution PDF that may be printed and distributed to clients and colleagues to help explain the benefits of working with a rehabilitation veterinarian. The brochure also may be customized with your practice's contact information on the back panel.
To download the PDF, go to the Resources page in the Members Area (log-in required).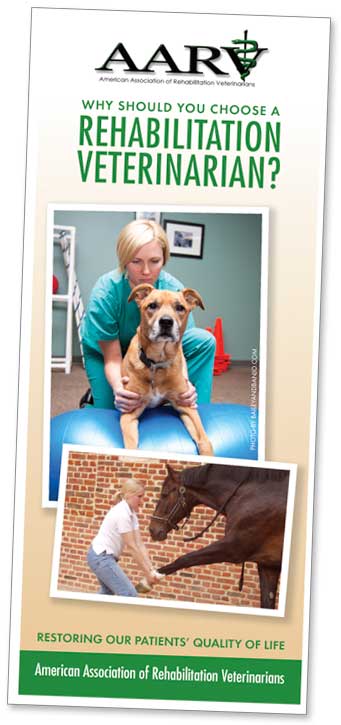 Order AARV Memorial Cards
AARV has updated its printed memorial cards with original new artwork by artist Carol Lavelle of Hawaii. The new artwork, which was created for AARV, features pawprints, hoofprints and footprints from a variety of animals arranged in a heart.
These memorial cards may be sent to clients of your practice as an expression of sympathy from your staff. The card indicates that you have made a donation to AARV as a way of honoring the life of their companion animal.
Visit the Products page to order cards online with a credit card or check.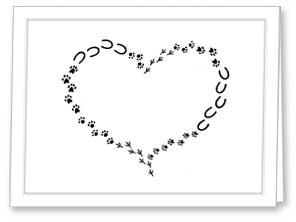 AARV Summary of Pet Insurance Coverage for Rehabilitation Services
AARV has released an updated version of its summary of pet insurance coverage for rehabilitation services. We believe this information will be helpful to our members and their clients.
To create this chart, we contacted pet insurance companies to collect information regarding coverage of rehabilitation services. Most of the companies were enthusiastic to provide the AARV information about their coverages. The AARV compiled the information received and created a 2-page summary chart in PDF format.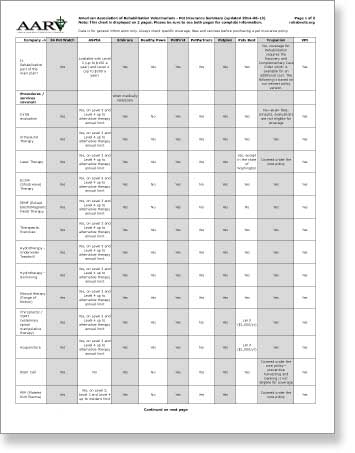 Become an AARV Member
We invite veterinarians, technicians, allied health professionals, and students to learn more about AARV and the benefits of membership. As a registered non-profit organization, AARV promotes education and research in the field of veterinary rehabilitation. Members attend continuing education programs offered by AARV in conjunction with national veterinary meetings.
AARV offers members knowledge, publicity, a way to speak out about issues, great continuing education opportunities and discounts from AARV partner companies.
For more details about these benefits, please visit our Membership Benefits page.
We encourage all veterinary professionals to become members of AARV.
JOIN AARV OR RENEW ONLINE TODAY!
You may now join AARV or renew your membership online! Payments are accepted by credit card or check.

Dues are the same for new and renewing members.
Veterinarian or industry professional: $100
Additional member from a practice at which another veterinarian is already a
current AARV member: $65
Veterinary intern or resident: $65
Veterinary technician: $40
Allied health professional: $40
Student in veterinary, technician or physical therapy program: Free
We have updated our fees for multi-year memberships. We are now offering a larger discount for members joining or renewing for 3 years. Join or renew for 3 years and pay only for 2 years! Fees for 1-year memberships remain the same.
Go to Join AARV or Renew Online to sign up today.
Please contact AARV whenever you change any contact information (especially email) so that we are able to keep you current!