AARV is compiling a list of resources to be helpful to members as they deal with the challenges of COVID-19. We also encourage members to check with their state and local VMAs as many are publishing and posting resources and guidance for veterinary professionals in their states.
As we learn of additional resources, we will add them to the top of the list.
Royal Canin
Royal Canin is offering free live virtual CE opportunities, including topics related to rehabilitation. Visit the Royal Canin website to view a schedule and register.
https://my.royalcanin.com/livece
Assisi Animal Health
Assisi Animal Health is offering free online CE opportunities and a veterinary webinar library covering topics from rehab to feline to professional development.
https://assisianimalhealth.com/vets/vet-webinars/veterinary-webinar-library/
AAEP
AAEP has resources for equine practitioners, which may help AARV members practicing in equine medicine:
https://aaep.org/resources/covid-19-resources-veterinarians
AVMA
AVMA has a webpage with resources for practice management, patient wellbeing and business economics:
https://www.avma.org/resources-tools/animal-health-and-welfare/covid-19
IAVRPT
IAVRPT is posting some free webinars, information about COVID-19 such as an article from Clinicians' Brief about the top 9 disinfectants, and hopefully soon a link to an online forum on how best to manage practices and businesses in veterinary rehab amid the coronavirus pandemic. This information can be found on their Facebook page:
https://www.facebook.com/Iavrpt
NAVC
NAVC also has resources for the veterinary community.
Online Pet Health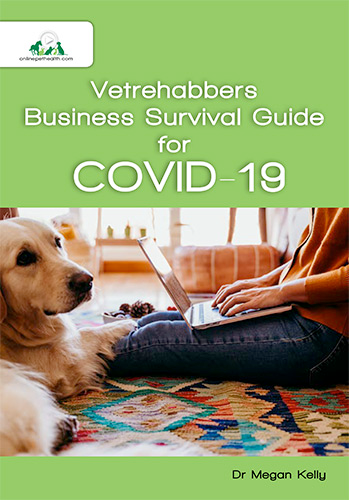 Online Pet Health is offering a free online Vet Rehab Business Survival Guide from Dr. Meg Kelly, owner of Online Pet Health, who has a great deal of experience in the business aspect of veterinary rehabilitation practice. Visit the Online Pet Health Facebook page to download the guide and learn more.
Dr. Kelly is also inviting veterinary rehab professionals from around the world to join her for "virtual coffees" to discuss next steps for businesses and share ideas. Please check the Online Pet Health Facebook page to find out when the next virtual coffee will be scheduled.