April 2021 Spotlight Practice
Veterinary Rehabilitation & Sports Medicine
Franklin, Tennessee
AARV Members:
Ashton Thompson, DVM, CCRP, cVMA
Dayna Kowalczyk, LVMT, CCRVN
Kristal Turner, DVM, CVA, CCRT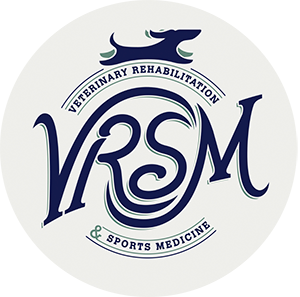 Veterinary Rehabilitation and Sports Medicine (VRSM) was established in 2010. Our facility is located in Franklin, Tennessee, on a beautiful 7-acre campus. We see a varied case load of geriatrics/generalized osteoarthritis, post-operative orthopedic and neurological patients, sports medicine and weight loss. Our modalities include an underwater treadmill, land treadmill, therapeutic ultrasound, laser, shockwave and TENS/NMES. We offer digital radiographs, PennHIP testing, musculoskeletal ultrasound and arthroscopy. We are thrilled to be part of the process of becoming a certified facility within the VOSM Academy, a rigorous training program established by Drs. Sherman and Debra Canapp of Veterinary Orthopedic & Sports Medicine Group (VOSM).
Continue reading below ...
AARV member Dr. Kristal Turner DVM, CVA, CCRT, is the medical director and currently in a practice path sports medicine and rehabilitation residency. She completed her rehab training at CRI and is certified in acupuncture through the Chi Institute. Her main focus is sports and regenerative medicine and the diagnostics that come along with that (musculoskeletal ultrasound and arthroscopy). AARV member Dr. Ashton Thompson DVM, CCRP, cVMA, joined VRSM in 2020 after working as a rehabilitation department head at an emergency and specialty hospital. Her rehab certification is through UT and she is certified in acupuncture, as well, through CuraCore. Dr. Thompson is passionate about helping pets live a more active and pain-free life and strives for the continued advancement of her field. AARV member Dayna Kowalczyk LVMT, CCRVN is the practice manager, head therapist and licensed veterinary nurse. She completed her rehab training at CRI and has been with VRSM since 2015. In addition to these AARV members, we also have 2 other licensed veterinary technicians (1 being rehab certified through UT), and several other support staff that are instrumental in keeping VRSM running smoothly.
VRSM places a big emphasis on education through social media, community outreach and collaboration with our local general practices and specialty hospitals. We work closely with our referring veterinarians to provide our patients with comprehensive treatment plans based on each individual patient's needs. Each member of our team is allotted time for continuing education. We have regular meetings to learn from each other and update best practices. Our proudest accomplishments are VRSM's growth over the past decade which has allowed us to help many patients and their families. Additionally, we strive to cultivate a welcoming culture with a focus on the wellbeing of our team.
VRSM works closely with Snooty Giggles Dog Rescue, an amazing non-profit organization that supports animals with severe injuries, birth defects or illness. We are honored to help the many pets that Snooty Giggles takes in that need long term physical rehabilitation, as well as provide their fosters/new families with the tools needed to maintain their best life.
Information written by AARV member Kristal Turner, DVM, CVA, CCRT
Preferred Contacts:
Dayna Kowalczyk, LVMT, CCRVN
Veterinary Rehabilitation & Sports Medicine (VRSM)
1973 New Highway 96 W
Franklin, TN 37064
Phone: 615-595-7170
Email: info@vrsmtn.com
Website: www.vrsmtn.com
Facebook: https://www.facebook.com/vrsmtn/
Instagram: https://www.instagram.com/vrsmtn/